Chester Mystery Plays Alderley 29th May -31st May 1998.
By Mandy Parr.
In a box of recently rediscovered video tapes, I found a tape containing the Mystery Plays which was dramatised by Churches Together in Alderley Edge during Pentecost 29th - 31st May 1998 and performed in the playing fields of Alderley Edge Community Primary School.
Rosemary Marshall, who lived on Trafford Road at the time, was the Producer and driving force behind the production which was a truly village affair. The production was made up of a series of plays, and different groups around the village undertook to produce a play each.
Simon Caporn, who played Jesus recalled "Each group had its own artistic director, St Marys, St Pius, St Philip & St James & Methodist Churches, some of the local schools, Sunday schools and drama groups. The Wilmslow Green Room Society gave valuable input through their actors and technical support."
"The history of the Mystery plays date back from Medieval times and were called so because they were performed by a town's Mysteries or Trade guilds, who protected the secrets of their trades" explains Liz Horrocks. Each trader took a story from the Bible and, if possible, ones particular to their trade e.g. shipwrights performed Noah, fishmongers performed Jonah and nail-makers acted the crucifixion.
Liz (and I) played a gossip friend of Noah's wife, and Liz organised members of SPYDS (St Philip's Youth Drama Society) in various roles. Cain was played by young Laurence Jay while Megan Mills played Eve, and father and son Ian and Tom Copeland played Abraham and Isaac. All ages took part, small children from the Nether Alderley Primary School, Methodist Shell Group & St Philips Sunday school became animals in Noah's Ark, and worker angels descended from Alderley Community Primary School. The church choir hovered above the stage up on scaffolding.
The village produced the Chester version of the Mystery Plays with the Old Testament being performed in period costume and the New Testament in modern dress. In the video film there are some people who will be instantly recognisable, our Cheshire East Councillor Craig Brown played a policeman at the crucifixion, and Vicar of St Philips Church Revd Brian Young was Lucifer and Colin Backhouse was God, while Frank Keegan played a convincing King Herod with great booming voice!
Robin Pye current vicar of St Philip & St James Church Robin Pye added
"These videos are a glorious reminder of churches that celebrated their faith in the heart of this community.
I think we are seeing a return to these days. During the COVID lockdown our church has been a prominent and confident witness of God's love in the community.
It is a good time for us to reflect on what past generations have done by watching this astonishing videos and be aware of what God might doing in the place now and in the future."
Click on link below to watch the Mystery Plays.
https://www.youtube.com/playlist?list=PLxLz76C13FUwwqR6xByq1c-DQlTA86QkF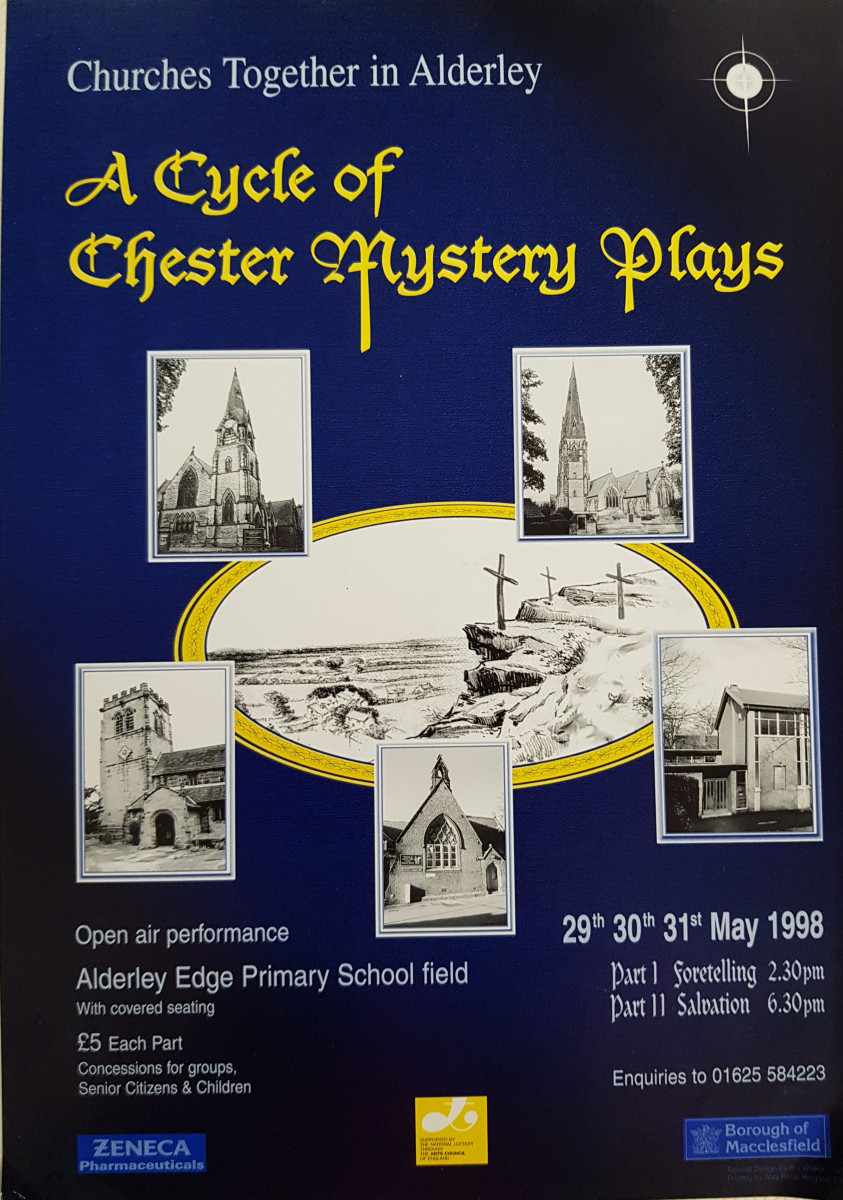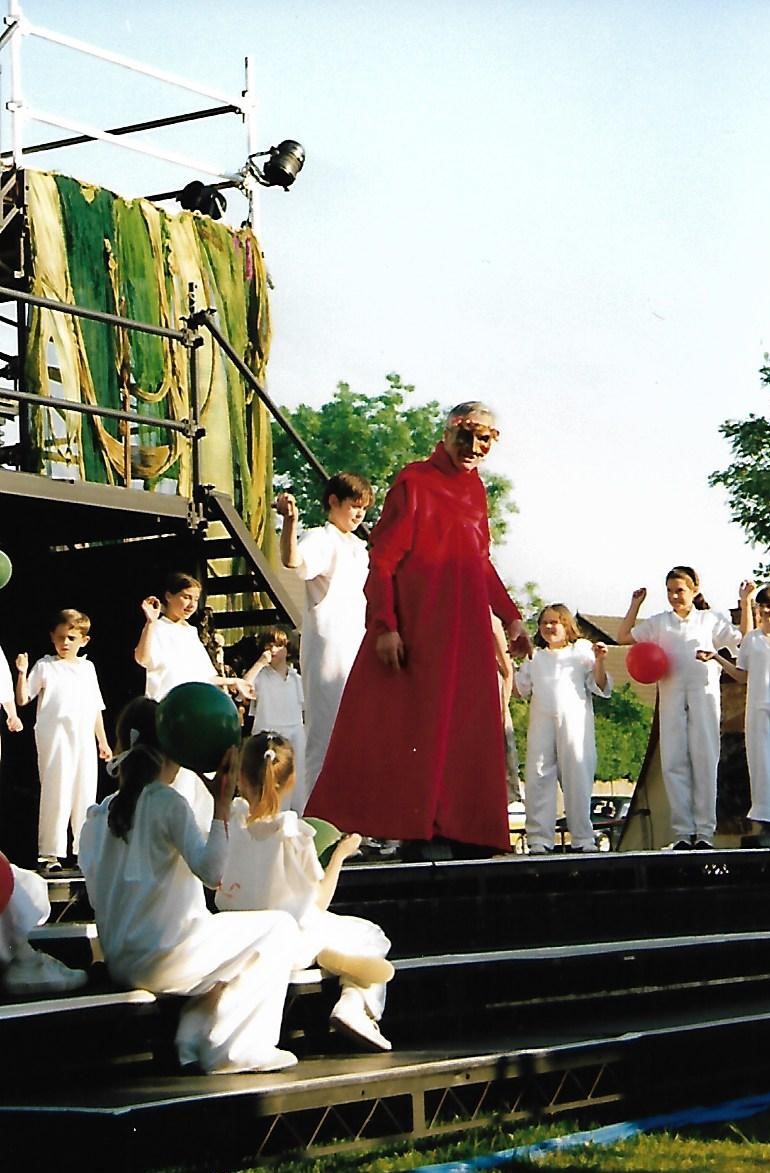 Brian Young
Catherine Caporn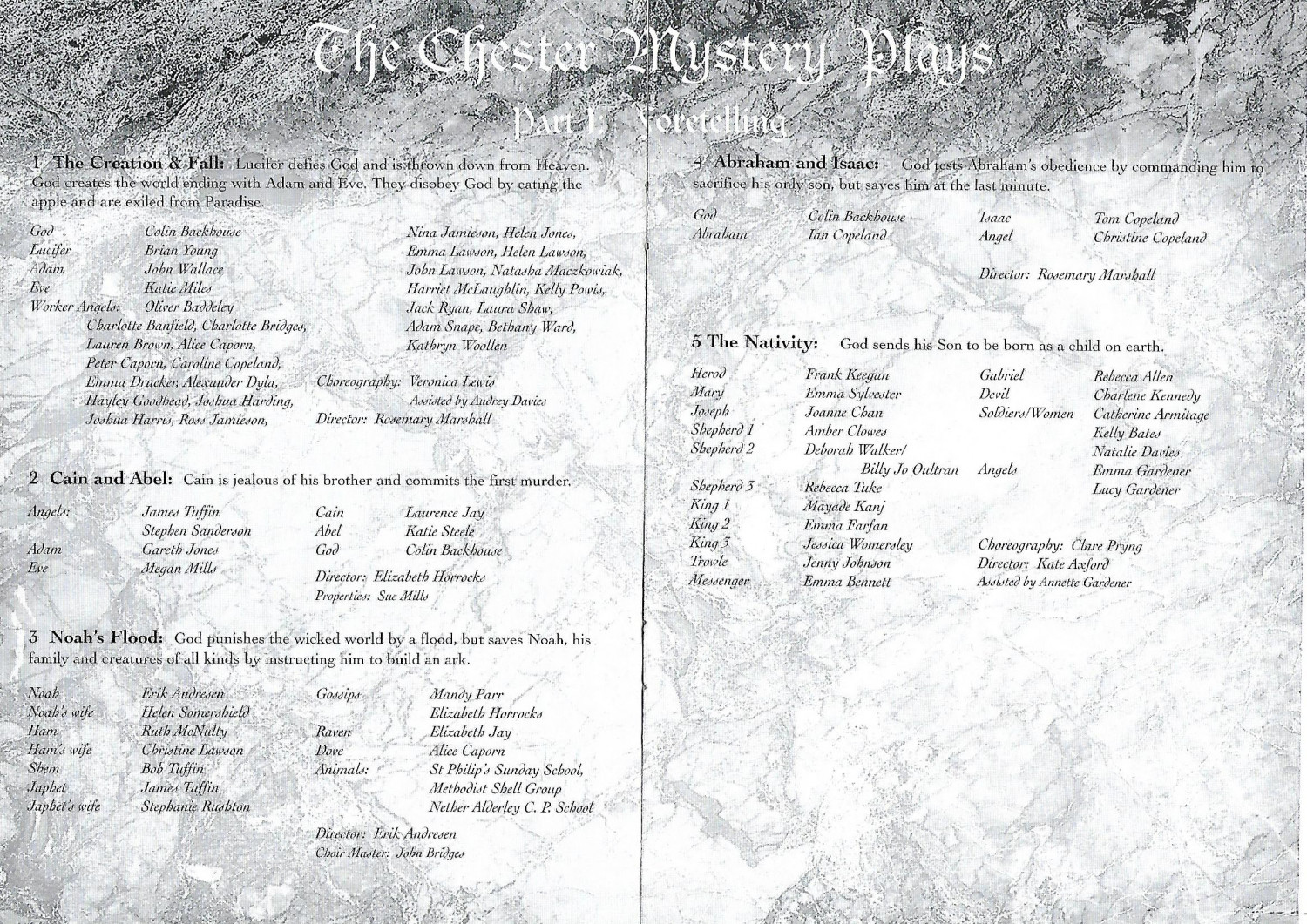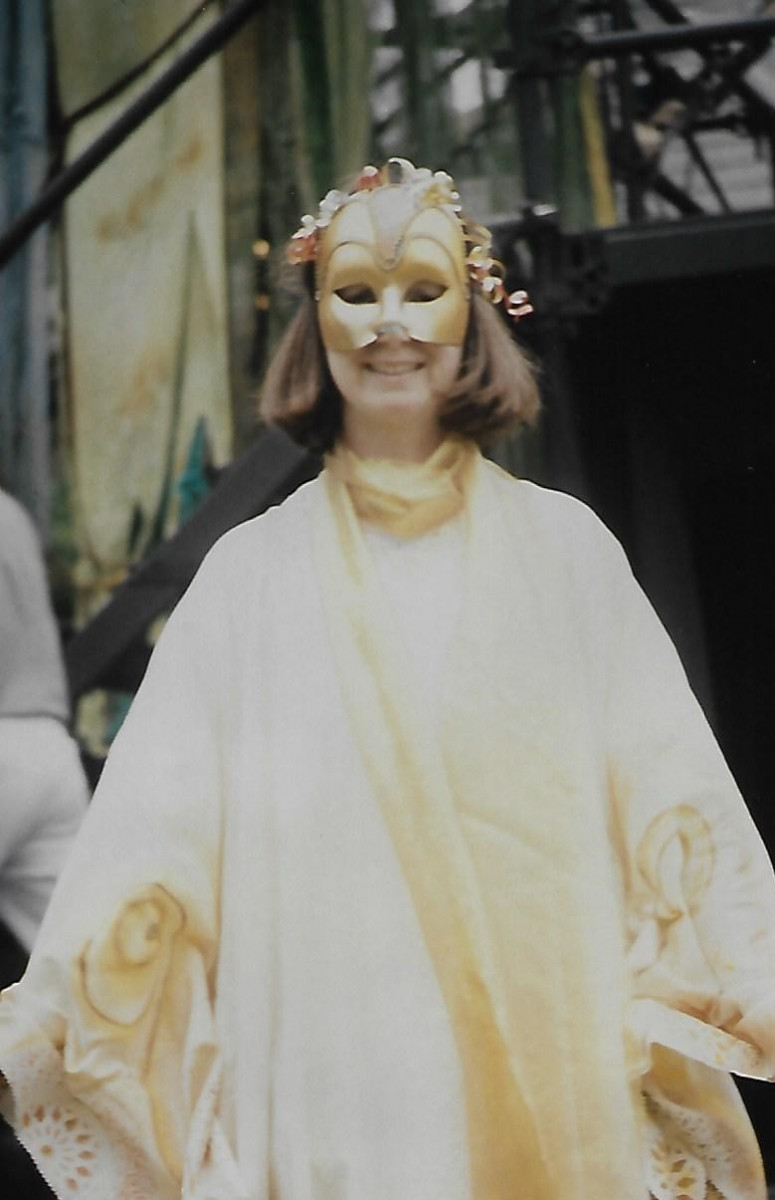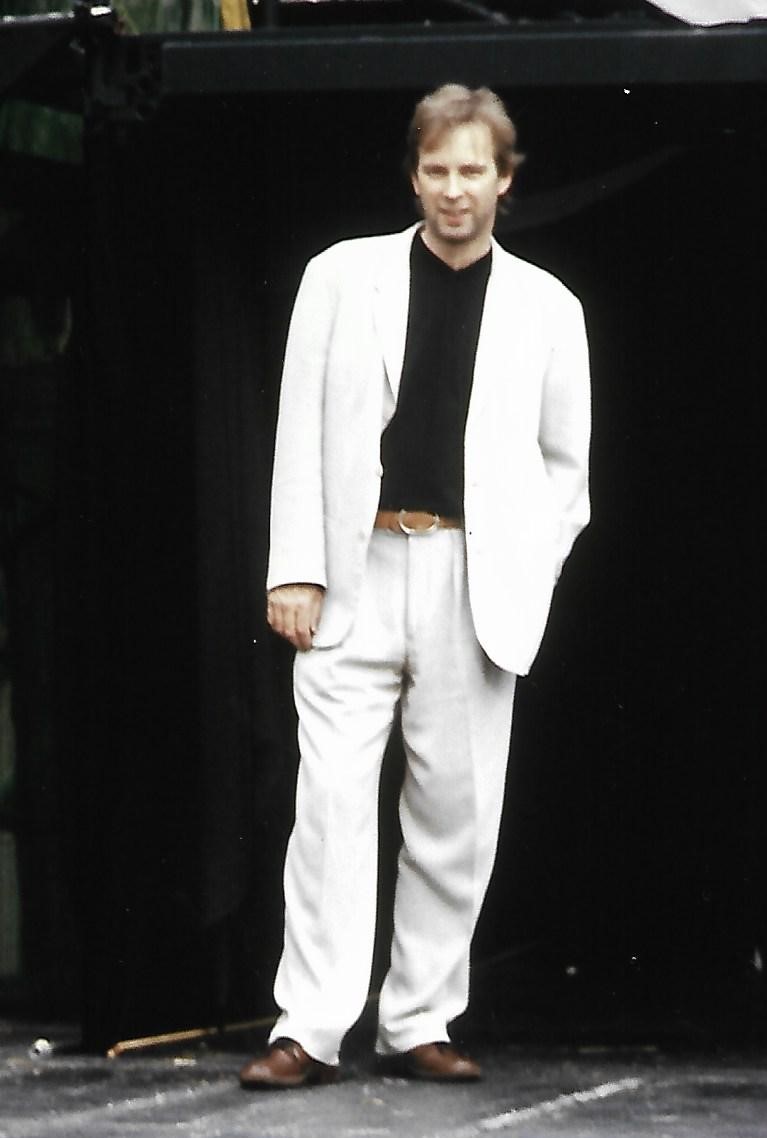 Simon Caporn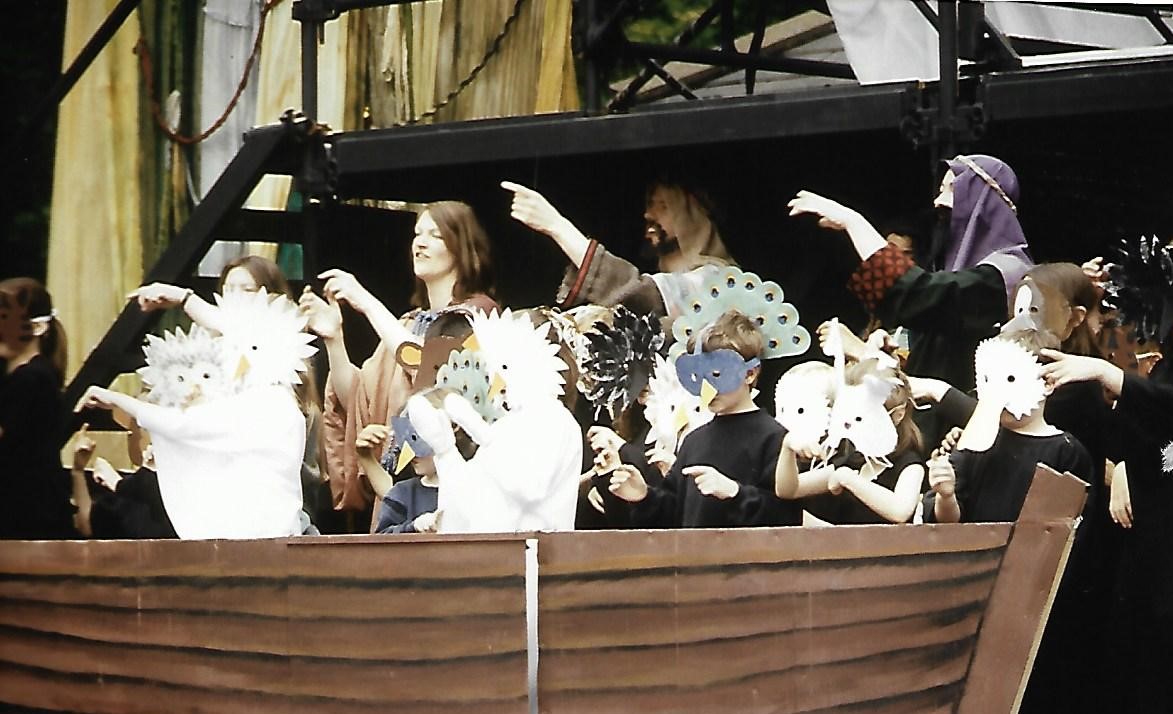 Noah in the ark with the animals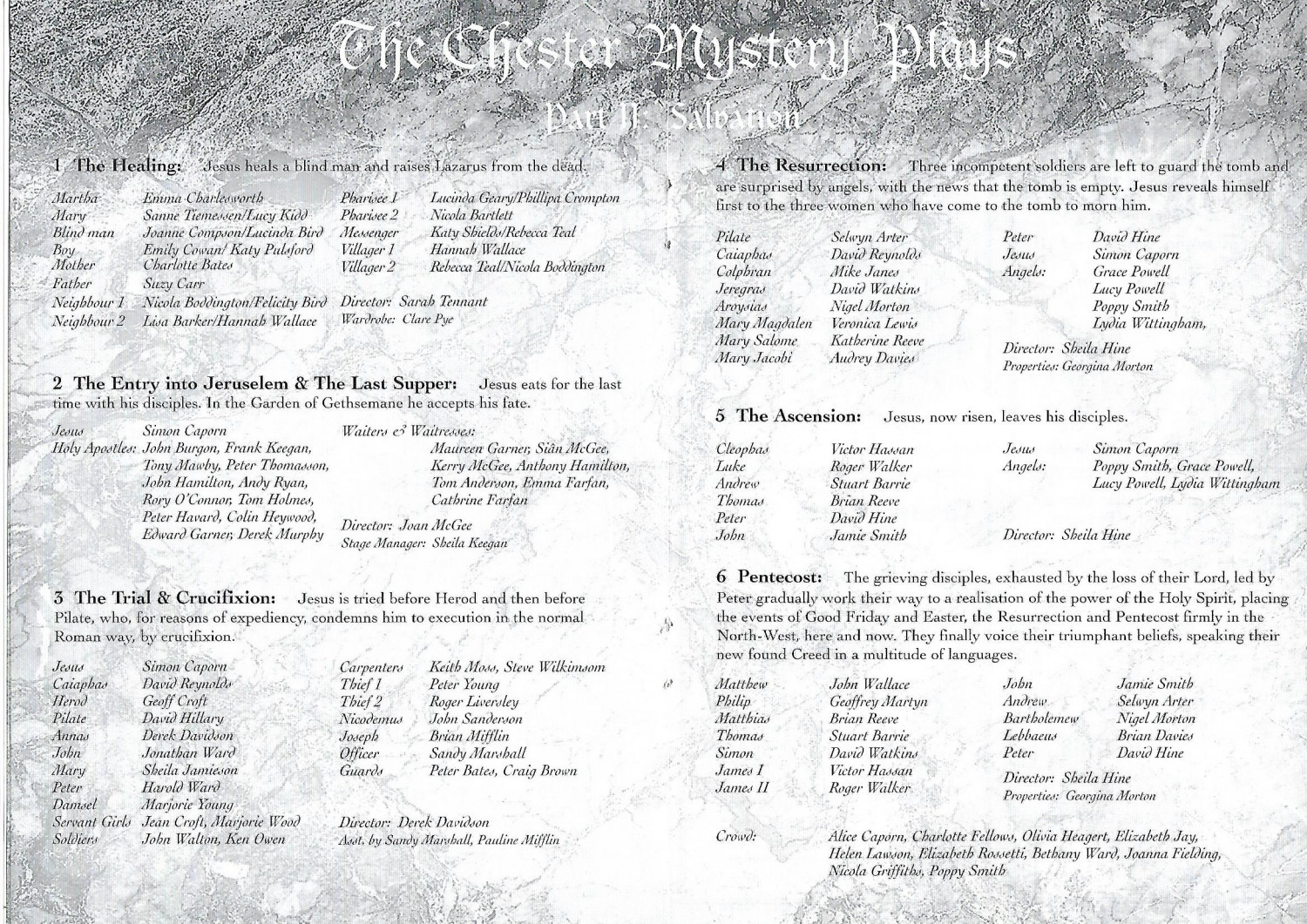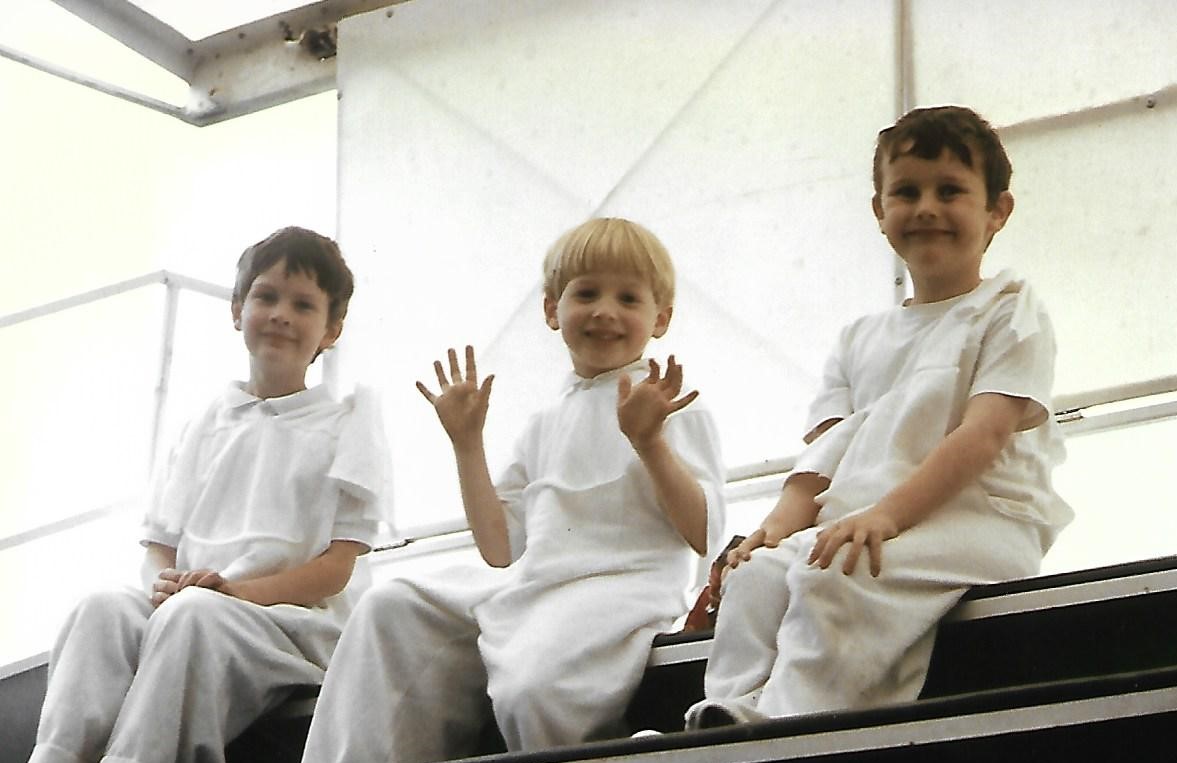 John,Peter & Richard.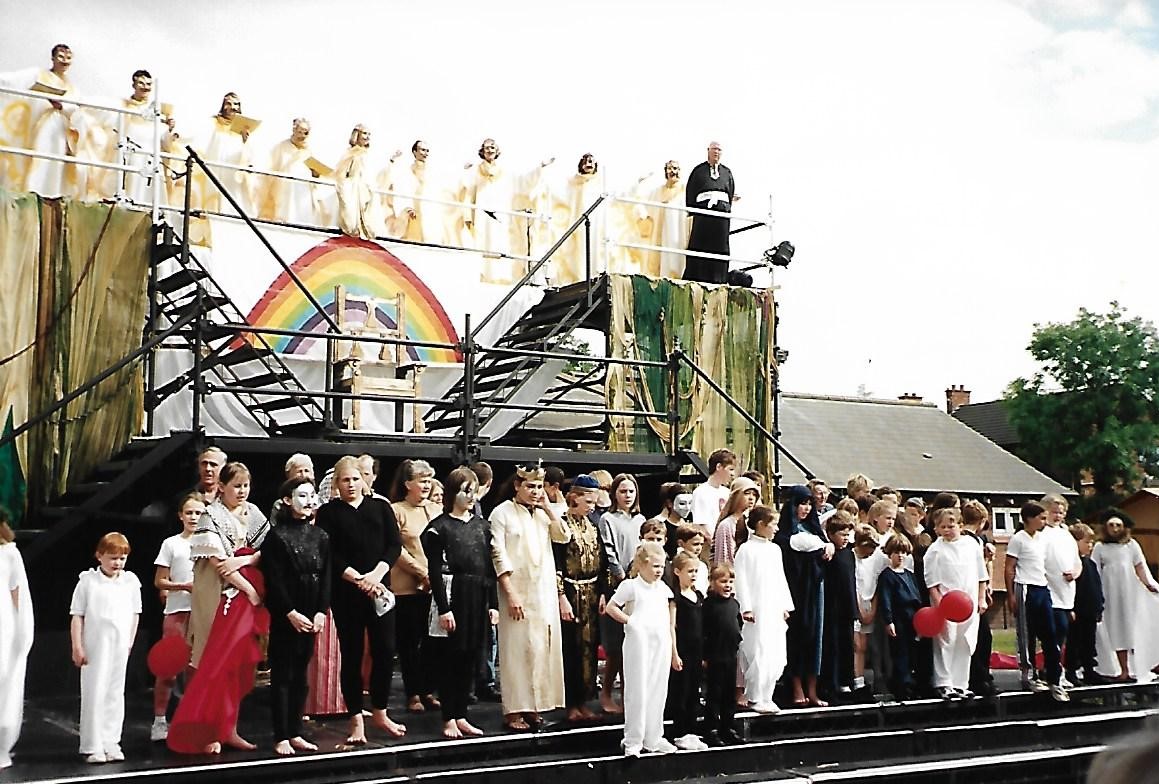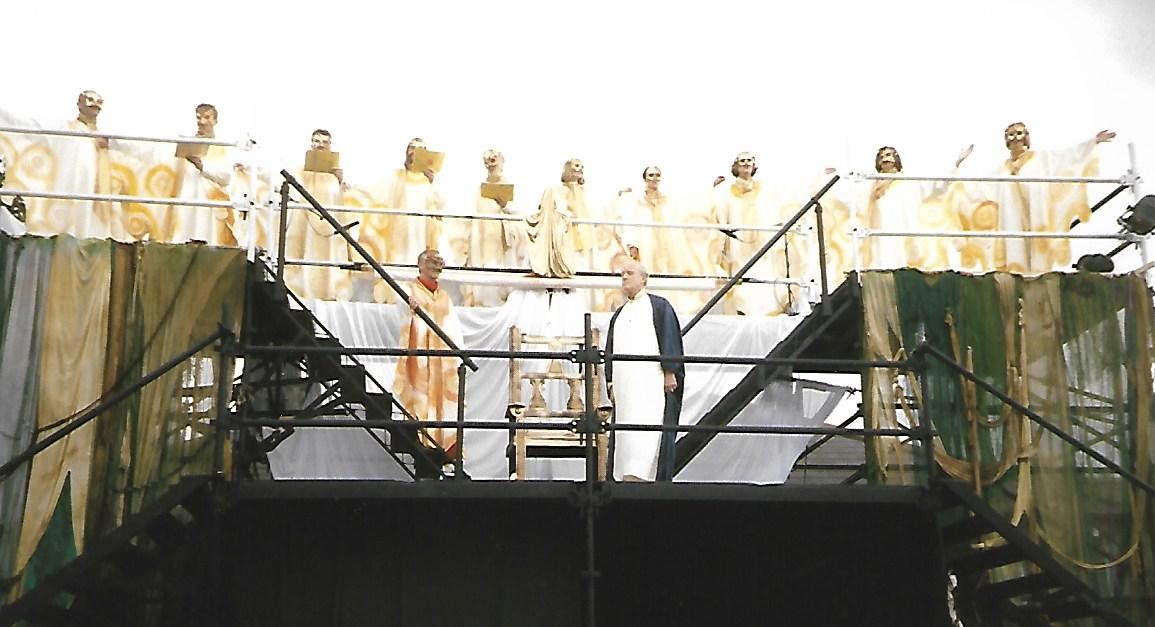 Rev Brian Young as Lucifer and Colin Backhouse as God..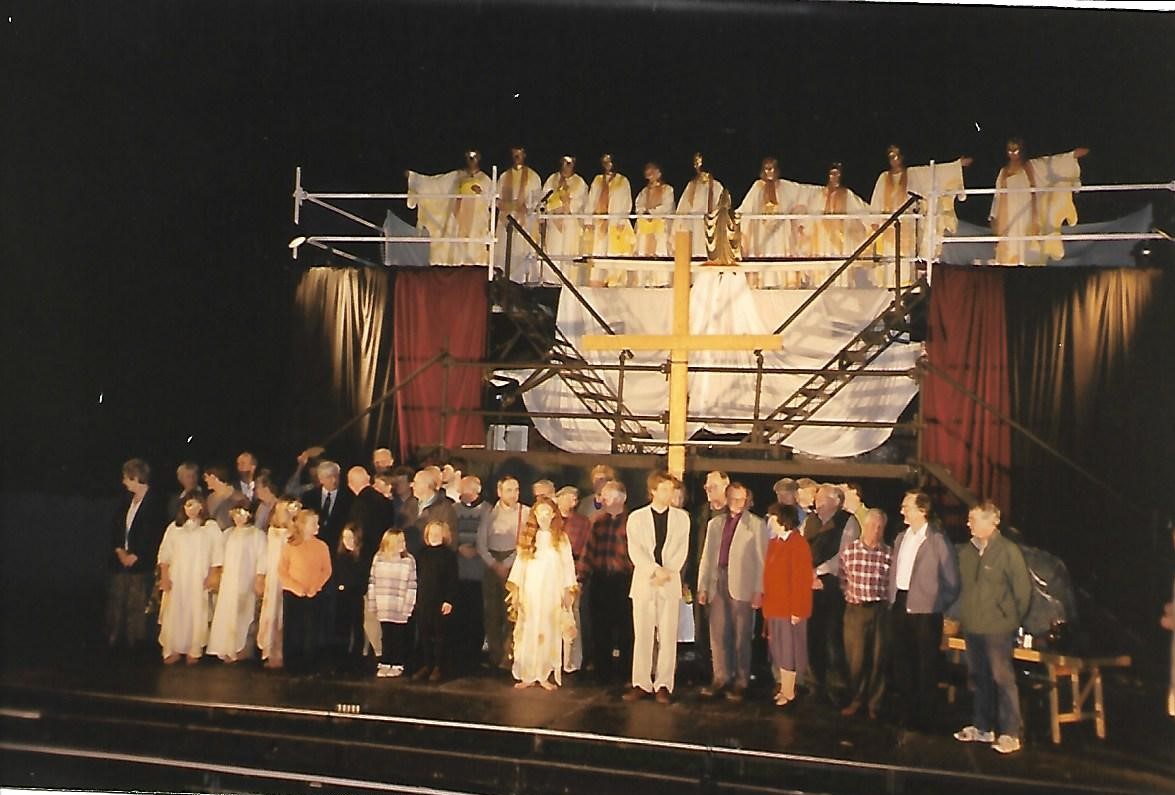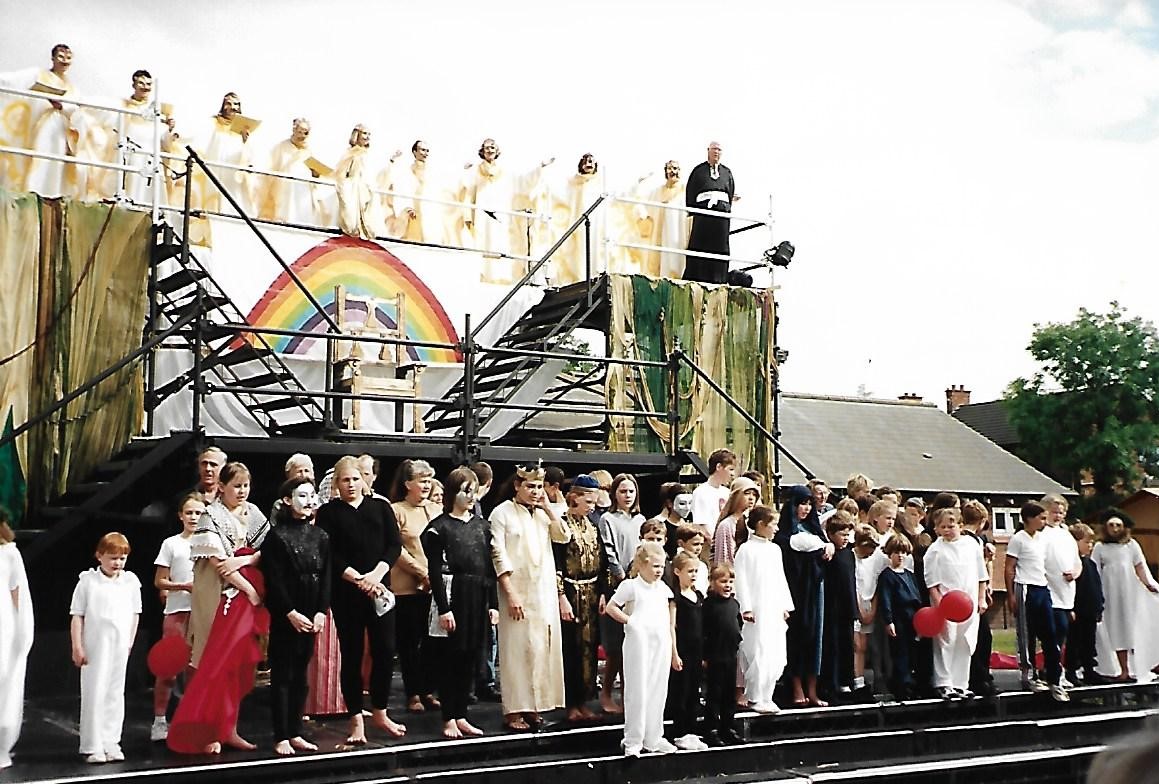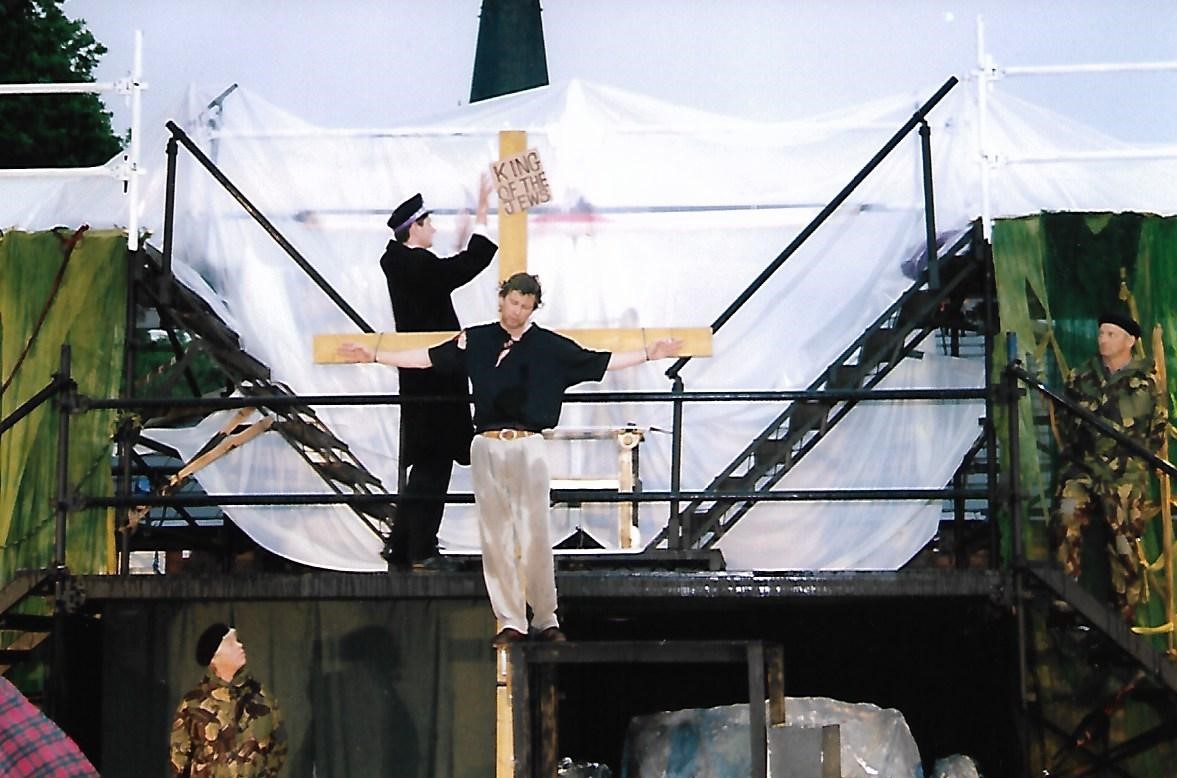 Craig Brown as a Policeman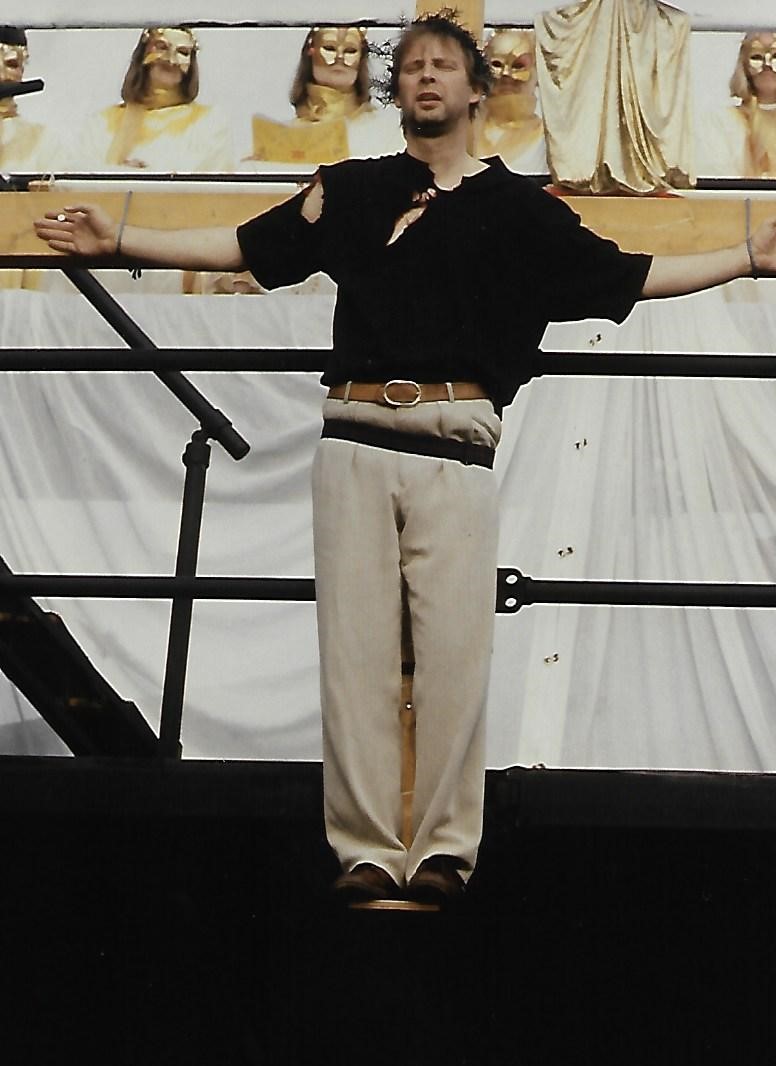 Simon Caporn as Jesus on the cross.
For more pictures please go to Gallery on the home page
If you have any stories or photos about the Mystery Plays please email us or comment on our facebook page.